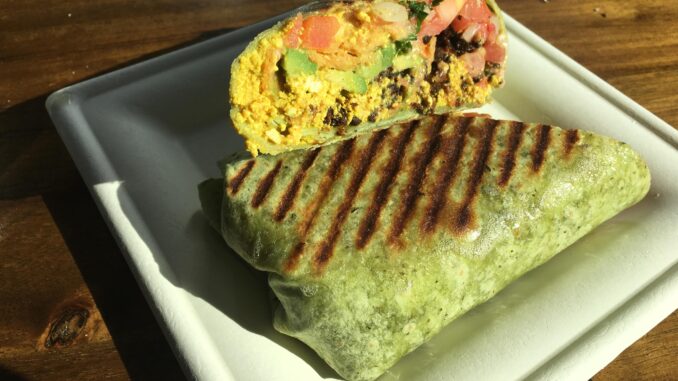 I was recently asked for my recommendations for vegan options in Charlotte for someone visiting Charlotte. The answer depends on so many different things: side of town, junk food vs healthier options, days of the week, desired vibe. For example, I don't want to recommend Romeo's Vegan Burgers if you don't like imitation meat products or eating from food trucks. That's probably just my brain over complicating a simple question, so let's pretend I was visiting Charlotte and our sole purpose was to eat good vegan food (which it usually is).
1. Queen City Grounds – While Uptown Charlotte is kind of terrible for vegan options, Queen City Grounds is the highlight. They have great vegan menu options for breakfast and lunch, great coffee, always stock local vegan treats and is just an overall cool place. This is good place to start if you're staying Uptown.
2. Deli Street – El Chingon is a top breakfast option in Charlotte, but driving out to Deli Street is not all that exciting unless you plan on visiting Plaza Midwood anyway. I would recommend stopping at The Greener Apple (inside Book Buyers) out on Eastway Dr while you're out there to pick up some vegan candy or snacks from the all vegan shop.
3. Pepperbox Doughnuts – Located in the heart of South End (and NoDa), they offer a pretty wide assortment of vegan doughnuts every day. They do serve coffee as well, but my favorite coffee is Central Coffee just down the street. Zucchini bread from Central Coffee makes a nice light option as well. If cake doughnuts are more your style, be sure to track down Move That Dough on Instagram.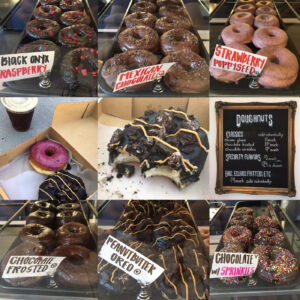 Lunch Options
1. Plant Joy or Living Kitchen – If you're looking for more of a plant-forward, healthier leaning lunch option, these are worth checking out. Plant Joy is a food stall at Camp North End and Living Kitchen is in South End. To be fair, Plant Joy is also a great brunch option.
2. Common Market – Always one of our favorite places to grab lunch and sit outside at the South End location. They do have multiple locations with multiple vegan options. Almost always have a daily vegan special and have a selection of beer to enjoy. (Breweries with vegan options)
3. Veltree – Now located closer to Ballantyne, they have the best vegan chicken drumsticks you will find anywhere and other great southern soulful menu options.
4. Optimist Hall – The variety of food and drink options make this a great place to take all visitors. Ramen, dumplings, sandwiches, donuts, coffee, beer. See the post on Optimist Hall Vegan Options for a full rundown.
Dinner Options
1. Bean – Located off of busy Independence Blvd, this area is the complete opposite of a walkable area, but it is one of Charlotte's original vegan restaurants and they still have some solid offerings including milkshakes.
2. Oh My Soul – Located in a much more walkable, vibrant part of town, Oh My Soul would be a good dinner spot if you have a concert at The Evening Muse or Neighborhood Theatre or just plan to partake in various drinks in the area. One of the best outdoor spots.
3. Sanctuary Bistro – If you want a finer dining experience, Sanctuary Bistro is the place to go. While it is 25-30 minutes from downtown Charlotte, it is worth checking out.
1. Artisen Gelato – All vegan gelato shop in Matthews. While it is 20 minutes from Charlotte, the plethora of flavors and deliciousness make it worth the trip.
2. Cinnaholic – If you are not fortunate enough to live near a Cinnaholic, you should definitely make a point of stopping here. There are 3 locations around Charlotte. Unfortunately, they are about 20 minutes from the downtown area. But it is all vegan. Go crazy making your very own cinnamon roll with frosting or have one of the best brownies around.
3. Move That Dough – Check out their Instagram to see what treats they'll be serving up this weekend. Last weekend they had brownies, donuts, cake, cookies, and Twix bars. They serve plenty of gluten free options as well.