Optimist Hall is a former mill turned food hall located between Uptown Charlotte and NoDa. While there is not a fully vegan restaurant, there is quite an assortment of vegan options scattered throughout. Sushi, ramen, dumplings, pizza can all be found at Optimist Hall. The vegan dessert options include raw treats from Village Juice Company, gelato from Honeysuckle, and doughnuts from Suarez. 
What are the vegan options at Optimist Hall?
Vegan Miso – Vegan Miso Broth, Tofu, Corn, Mushrooms, Bamboo, Scallions
Vegan Ramen – Onion Broth, Marinated Mushrooms, Bok Choy, Crispy Tofu
Tofu Bun – Crispy tofu, Bulgogi sauce, gochujang, seasoned cucumbers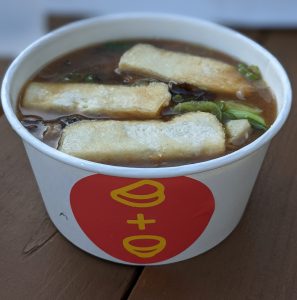 Veggie Dumplings (steamed or fried) – Shitake mushrooms, cabbage, carrots, vegetable oil, ginger, 5 spices, cumin
Vegan Fried Sauce Noodles – Flour noodles, fried tofu, carrots, and shiitake mushrooms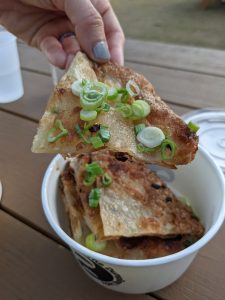 Avo Vegan Toast 
Southwest Bowl – brown rice, romaine, black beans, raw corn, mango salsa, avocado, cilantro, cashew cheese, poblano salsa
Smoothies (lots of choices – Mocha-nana, sunset, mint chip,green coco, and more)
Raw Desserts – typically have several different options to choose from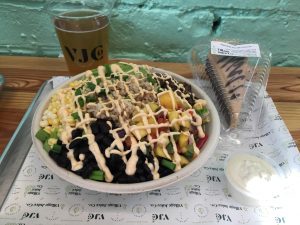 Suarez Bakery and Barra
(this location serves food as well as the expected doughnuts)
Chickpea and sweet potato bowl – garbanzo beans, sweet potato, peppers, onions, spinach
Portabella Sammie – Bolillo bread, mojo portabella, crispy eggplant, avocado, romesco, spinach
Doughnuts – Classic, apple fritters, and cinnamon twist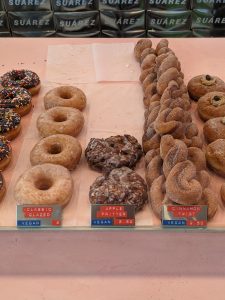 The Enat menu clearly identifies their vegan options. 
Lentil Sambusa – Three crispy treats stuffed with lentils
Vegan Platter – Includes Shiro, Miser, Gomen, Fosolia, Tikel Gomen, Ater, Beets & Potatoes Salad, Tomato FitFit and Azifa. Served with injera. Each of these vegan items can be ordered on their own as well. 
Passport Plate – Vegan platter served with mushroom tibs and one extra side
Masala Smashed Potatoes – Crispy fingerling potatoes tossed with salt, chaat masala, lime juice, and cilantro. Served with sweet and spicy Maggi ketchup
Bhel Puri- Tangy, cruncy, sweet, and spicy – an Indian street food classic. Puffed rice, flour crisps, crunchy chickpea noodles, roasted chickpeas, cilantro, and onions tossed with tamarind, garlic, and green chutneys
There are more vegetarian options that look like they could potentially be made vegan.
Chocolate Brownie Chunk – this is the one listed vegan option on their website, but pretty sure we've seen other options.
Similar to other Mediterranean style places, you can build your own bowl or wrap with your choice of toppings and falafel.
Their website nutrition guide marks their vegan options. There were a few items I was surprised to find that were not vegan.
NOT VEGAN: freshly baked pita, spicy hummus, Israeli couscous, baba ganoush, s'hug dip (s'hug sauce is vegan) and the veggie kefta are not listed as vegan.
These places probably have vegan options, but don't mark it on their menu
Velvet Taco – They have several nice sounding vegetarian options with tofu and cauliflower…can maybe made vegan with some subtractions? 
Zukku – Their online menu does not indicated vegan options. However, they have posted about building a vegan bowl on Instagram (Big poke bowl with fried tofu, roasted corn, asparagus, wakame seaweed salad, carrots, grilled pineapple, sesame seeds, and pickled red onions, topped with sriracha vin)
Harriet's Hamburgers – No vegan burgers, but French fries are allegedly cooked in non-animal oils and delicious.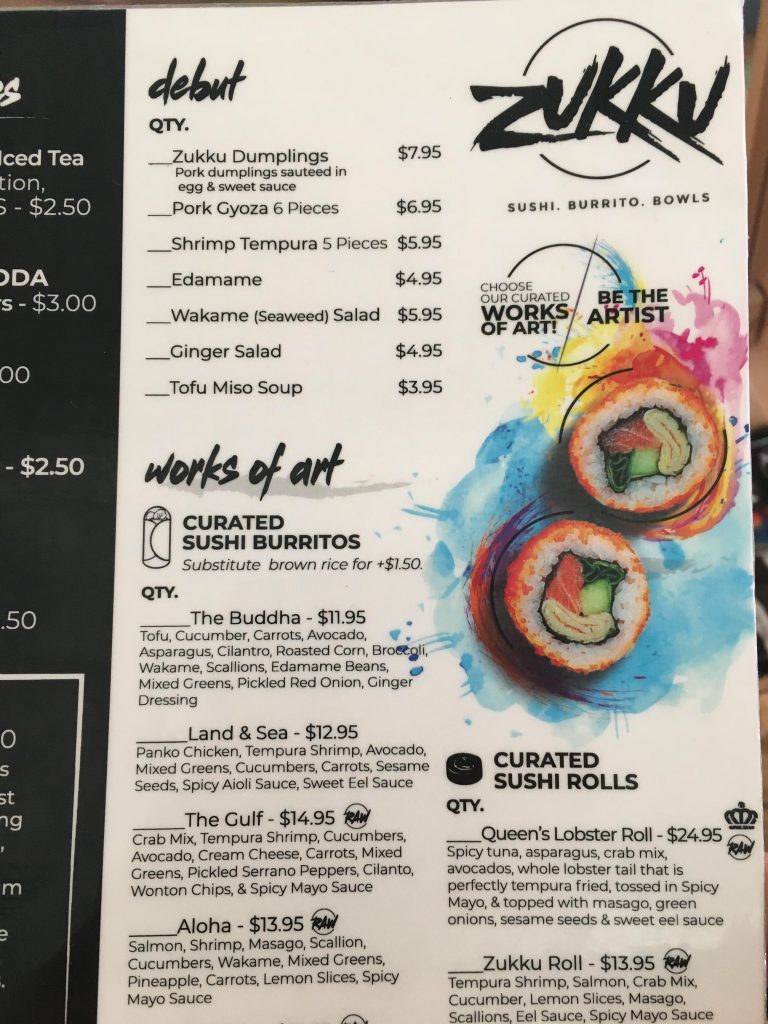 There are also plenty of drinks to be had at Optimist Hall