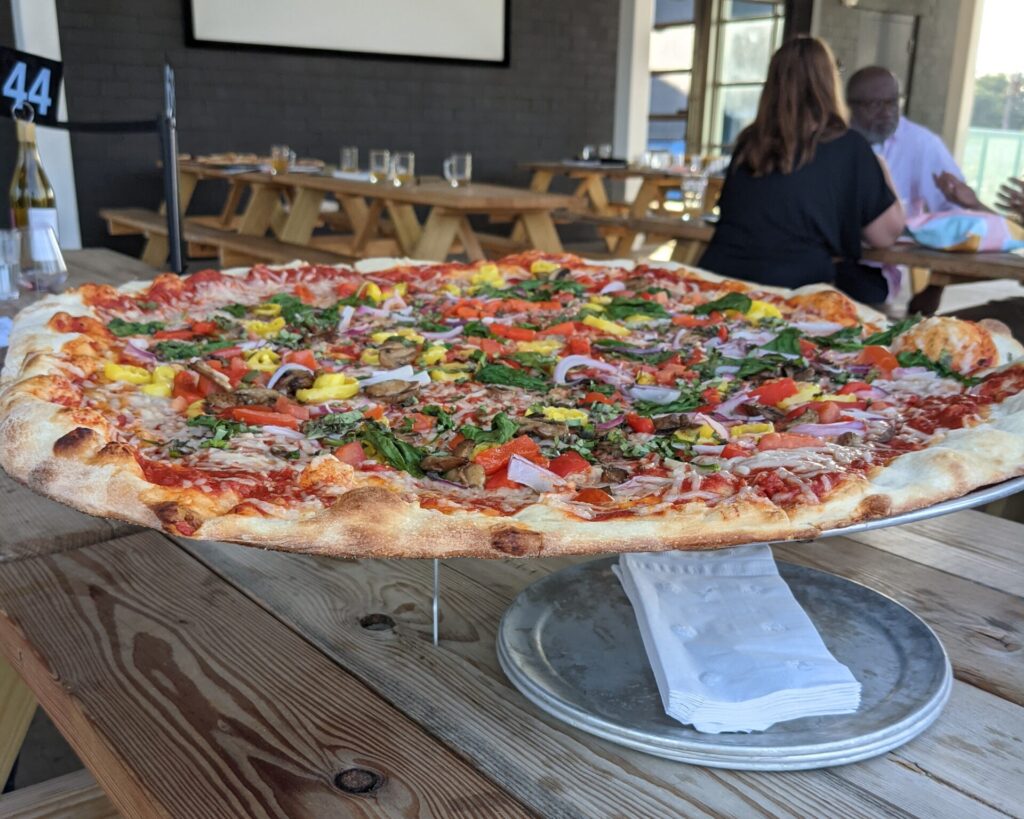 Vegan pizza is one area of the vegan food spectrum that Charlotte is not lacking in options. Still waiting on the first vegan-cheese only pizza parlor, but essentially every pizza place has vegan cheese.
Livy's Neopolitan Pizzeria

Located at the Heist Barrel Works location near Camp North End. They have two labeled vegan menu options. The Vegan Il Fungo is one of our top choices in Charlotte.
When they initially started offering vegan options, we tried something they called buffalo chicken and never went back. However, there have been quite a few posts about their pizza being really good. With the Concord location right next to Cinnaholic, it makes it a great destination.
Plant Joy now offers pizza as Pizza Joy. These pizzas are legit. The Spinach Artichoke pizza is a winner and the sausage is worth the add on. The crust comes from local bread maker, Duke's Bread.
This chain entered the Southend Charlotte market in 2016 and offers vegan cheese and spicy vegan chorizo. Pizzas are made-to-order fashion. Build Your Own and add as many toppings as your heart desires.
Multiple locations around Charlotte. They do offer vegan cheese at no additional charge, but don't have any preset vegan options on their menu.
VeganCLT recommends ordering the Mexican minus chicken and sour cream with vegan cheese and add peppers and onions. Or the more traditional Wood-Roasted Vegetable pizza w/vegan cheese.
At their LoSo location, Protagonist offers vegan cheese. It's a good option if you're brewery hopping in the area near Olde Mecklenberg or Sugar Creek.
Two locations in Charlotte. They have good pizza, but it's pretty pricey plus they charge extra for vegan cheese which is annoying.
VeganCLT recommends going for the Tempeh hoagie minus feta and mayo, add vegan cheese and get marinara on the side (tell them no cheese on the marinara).
Salud Cerverceria lists two vegan pizza options on the menu and they also offer a cauliflower app.
Uncle Maddio's feels like a hybrid between the build your own and a sit down pizza joint. Their website identifies their vegan options which is great. They are one of the few pizza places that offer a marinated tofu topping.
Tony's Pizza is an order at the counter, eat off of paper plates pizza joint that serves gigantic NY style pizzas. The garlic knots are also vegan-friendly.
Fuel Pizza, Pure Pizza, Pizza Peel all offer vegan cheese as well. Sal's Pizza Factory has been recommended, but other than the word vegan on the front of their menu, I don't know what they offer.
For larger chain pizza options, Toppers has added vegan cheese and chicken. It is still one of our go to vegan pizza options for the buffalo chicken pizza and the vegansti