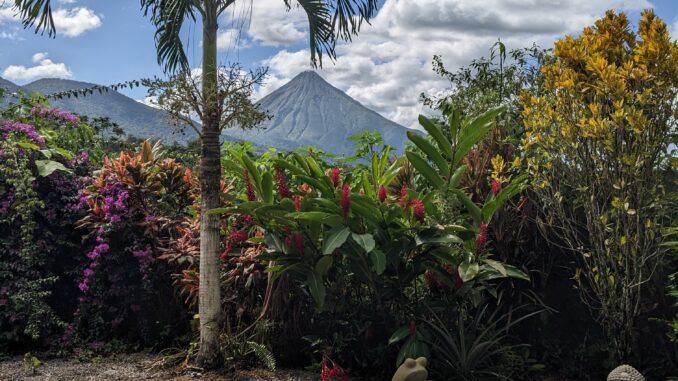 We visited La Fortuna and Dominical, Costa Rica and found plenty of vegan options. La Fortuna is quite the tourist-friendly place with a lot of dining options while Dominical has a nice mix of a few polished Americanized restaurants and more authentic feeling places.
La Fortuna Vegan Options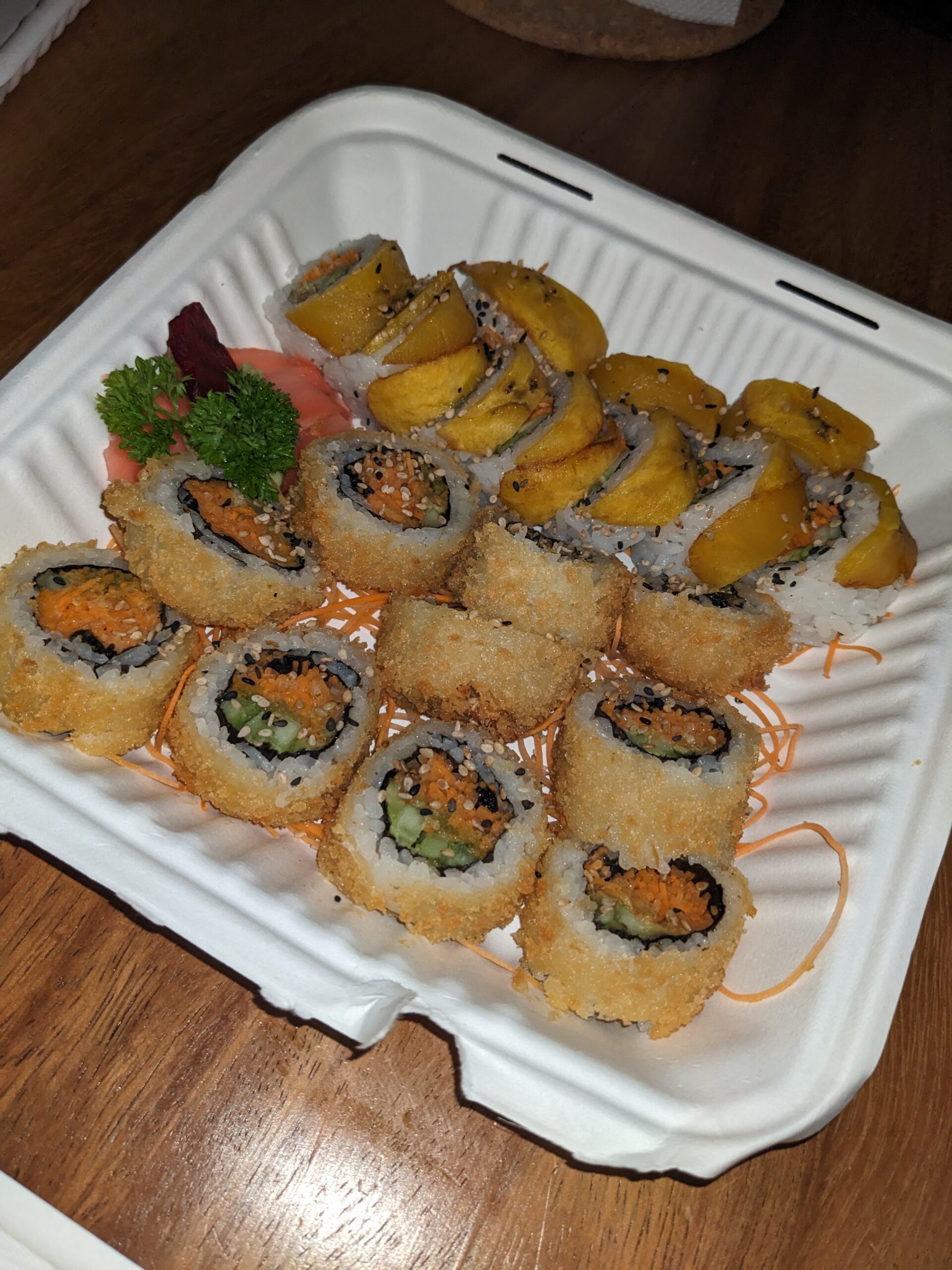 This was the first time I have seen a vegan sushi boat offered anywhere. They have about 10 different vegan sushi rolls to choose from on their menu and the vegan boat allows you to select 4 from a certain selection. Unfortunately, we had to order it to go, so we didn't get the actual boat presentation, but we still thoroughly enjoyed our buffet of sushi. The boat seemed to be a pretty good value and maybe one of our cheapest meals in Costa Rica.
Chifa La Familia Feliz
Chifa La Familia Feliz serves up Peruvian-Chinese dishes with a vegetarian section where everything is or can be made vegan. Options include Kam lu wantan vegetariano (wonton stuffed with vegetables curry and coconut milk covered with a sweet and sour sauce with sauteed pineapple and bell pepper) and Tacu Tacu vegetariano (rice and beans sauteed with yellow peruvian pepper, onions, and cumin topped with tofu and veggie stir fry.)
Jungle Bowls
Jungle Bowls has fresh vegan smoothie bowls. The prices aren't cheap, but it's a great nutritiously packed meal and quite filling.
Chante Verde
Another option with vegan options clearly marked on the menu. Appetizer options include Organic Green Skewers or Spring Rolls with entrees ranging from Pad Thai, Vegan Chaufa to Mushroom or Falafel Naan. A pretty solid selection to choose from.
Papa Johns
I think my traveling party thought I was kidding, but I would not have been mad ordering Papa Johns while in Costa Rica. They actually offer vegan cheese and a vegan meat option. Here is the VegNews article about the vegan options. For local ordering options, here is their rundown of vegan options.
Dominical Vegan Options
For selecting our AirBNB based solely on the house itself, we really lucked out with how vegan-friendly Dominical ended up being. The area has plenty of vegan options in and around Dominical.
Mama Toucan's Natural Market
A natural market with a ton of vegan options ranging from fresh veggies to frozen meals and even their own Mama Toucan's ice cream. They even have a small deli where you can order vegan options.
Cafe Mono Congo
A coffee shop and breakfast/lunch spot right next door to Mama Toucan's. After ordering at the counter, you take a number to your seat where you can overlook the waterway leading to the ocean. We ordered a couple cold brews and ate a burger and a buffalo falafel wrap. Both were served with choice of soup, salad, or potato wedges. These were some thick wedges, but well cooked and nicely seasoned.
Vegan options are clearly marked on the menu. My confidence was a little shaken when I ordered the Pad Thai vegan version and he said it is already vegan despite the menu listing fish sauce. I think they got it right in the end. They had a good variety of options. I wouldn't order the Pad Thai again, but they have their own hot sauces that were really good so they would make any dish appealing.
Just a little bit south of Dominical down the street from Parque Nacional Marino Ballena (the whale tail park) was a fantastic falafel joint. The falafel plate came with a delicious salad, fries, hummus and falafel. I'm so used to a side salad being a throwaway side, but this one was excellent. It was a good portion and everything was delicious. Definitely recommend stopping here.