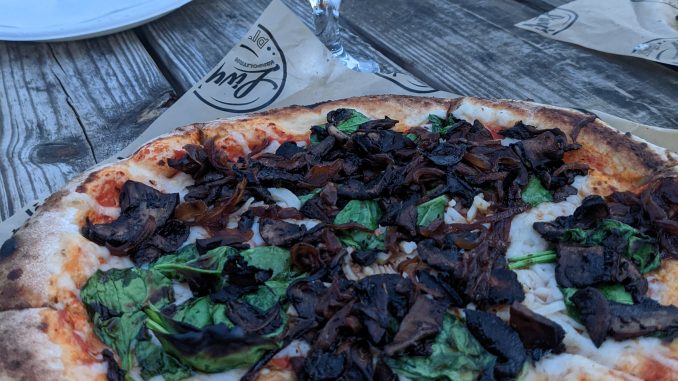 A few years back, we visited Portland and I was amazed at all the vegan options that seemed to be at any brewery we happened to enter. In Charlotte, it takes a bit of planning to eat well on a day of brewery hopping. There are several pizza options, a few sandwiches, and the rest are entirely dependent on the food truck of the day. 
If I had to rank my top 3 breweries as far as their vegan options, they would have to be selected from the ones that actually have the word "vegan" on the menu. Sadly, out of the ten thousand breweries in Charlotte, that's a small list. 
1. Heist Brewery and Barrel Arts – the vegan fungo pizza offered by Livy's combined with plenty of outdoor seating and solid beers make it number one. 
2. Town Brewing – As long as Jeff (Fud on The Move is around, there is likely to be some good vegan options. 
3. Salud Cerveceria -They get the third spot for having an appetizer, sandwich and pizza option. Also, they have $4 beers on Monday ($3.50 downstairs). Unfortunately, on my visit they were out of vegan cheese.
If I had to choose my favorite brewery overall, that would be Birdsong. They have a solid core lineup of beers, an outdoor space, free peanuts, vegan food trucks frequently, and a laid back vibe.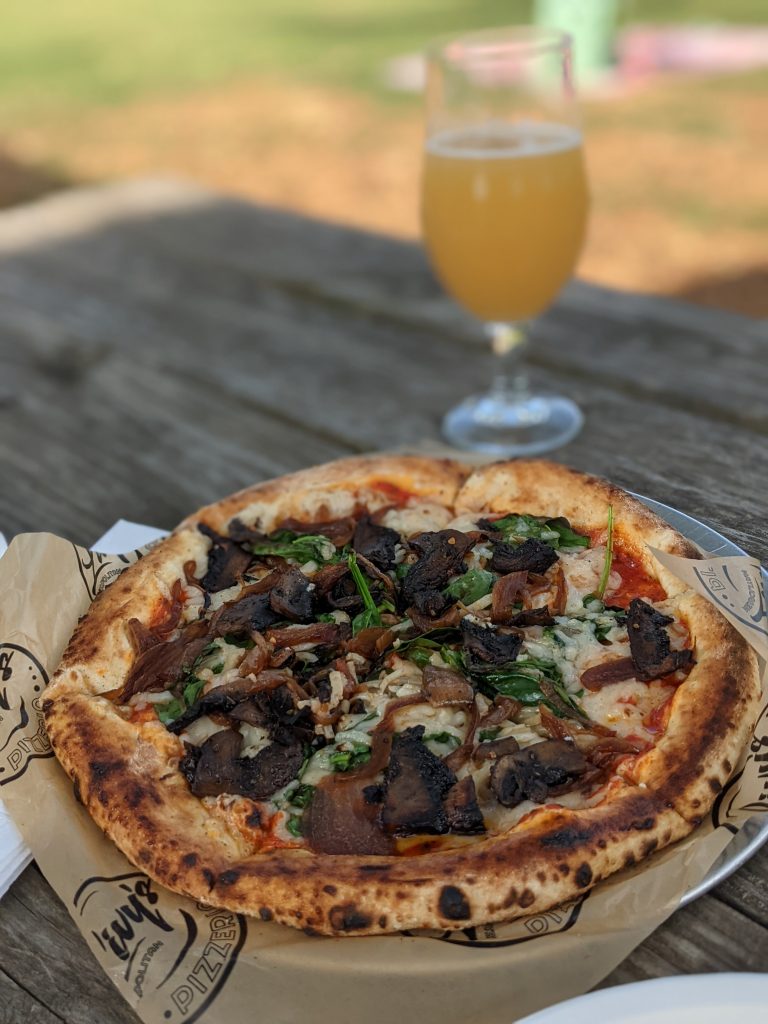 Vegan Options at Charlotte Breweries
Heist Brewery has two locations and both offer limited but solid vegan options. The original Heist location in NoDa on Davidson offers seitan nuggets and a seitan wrap. The Heist Brewery and Barrel Arts location near Camp Northend offers a really good pizza option from Livy's. They have 3 vegan pizza options, but the Fungo option was so good, we will likely not stray. Additionally, they have a Chipotle Hummus. 
Town Brewing has two vegan flatbread options (Vegan Margherita and Vegan Classic) and two sandwich options (Bahn Jovi and Reuby Soho). Occasionally, they will have vegan specials as well. 
Salud Cerveceria has a vegan app, sandwich, and pizza option. In Due Time is breaded cauliflower with roasted red pepper sauce. Prototype Pizza is a 12 inch pizza with Violife Vegan Cheese, Vegan Sausage, Roasted Red Pepper Sauce, Arugula, Garlic, Mushroom, White Onion, Calabrian Chiles, Pumpkin Seeds. The Hold On, Be Strong sandwich has Portobello Mushroom, Coconut Aminos, Vegan Chipotle Aioli, Red Onion, Roma Tomato on Ciabatta Bread.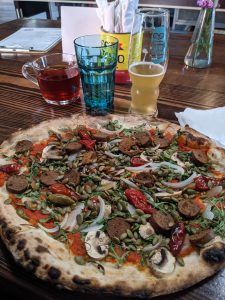 Protagonist South End serves comically gigantic pizzas with vegan cheese and veggie toppings. Careful with the toppings, the cost can add up quickly on that giant pizza.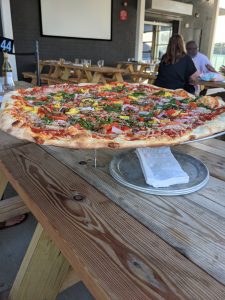 Lenny Boy has been a longtime friend of the vegan community supporting vegfest and various vegan pop ups over the years. They serve both beer and kombucha. Their food menu generally identifies what is vegan. Most recently, they had a vegan roll (Tomato basil wrap with arugula, pepper relish, onions served with chips) and a vegan gazpacho (blend of fresh roma tomatoes, vegetables, and a house spice blend served with garlic crostini). I believe they can do the pretzel vegan as well. 
Olde Mecklenburg Brewery would be only in case of emergency….you can substitute a Beyond Burger patty for a $5 upcharge. That's almost insulting. 
Catawba Brewing Co has maybe some pickles or a kids pb&j. So just next to nothing.   
These Breweries Regularly Host Vegan Food Trucks
Pilot Brewing located on Central features Ve-Go every Tuesday. They also sell Dare vegan cheese. 
D9 Uptown consistently has vegan food trucks with Mike's Vegan Cookout currently scheduled every Tuesday. 
Birdsong, NoDa Brewing, Blue Blaze, Resident Culture, and Sycamore all rotate vegan food trucks on a pretty regular basis. You can check here for all the vegan food trucks roaming around Charlotte. 
Free Range occasionally has vegan friendly options such as Title Belt Ice Cream set up inside. 
Vegan Food Options Nearby
Divine Barrel doesn't serve food, but they have Deejai located right next door, so that is a solid option.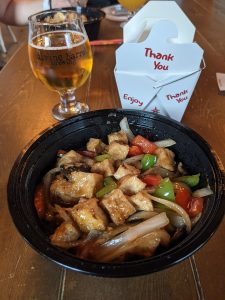 Fonta Flora is located at Optimist Hall that has plenty of vegan options. 
Armored Cow is located near the school formerly known as UNCC. Occasionally, they have food trucks, but you can pick up food from one of the vegan options nearby and eat it here. 
Edge City doesn't serve food, but they are used to people bringing pizza from Hawthorne's next door. Since Hawthorne's is one of the least friendly pizza places in Charlotte, we recommend picking up a vegan Grandma's Pie from Sal's down the street (and it has to be the vegan Grandma's Pie as anything else gets subpar reviews). 
No Vegan Options 
Wooden Robot, Devil's Logic, Legion, Brewers at 4001 Yancey, Sugar Creek,  Lower Left either have no food options, no clearly identified vegan options or did not respond when asked via Instagram.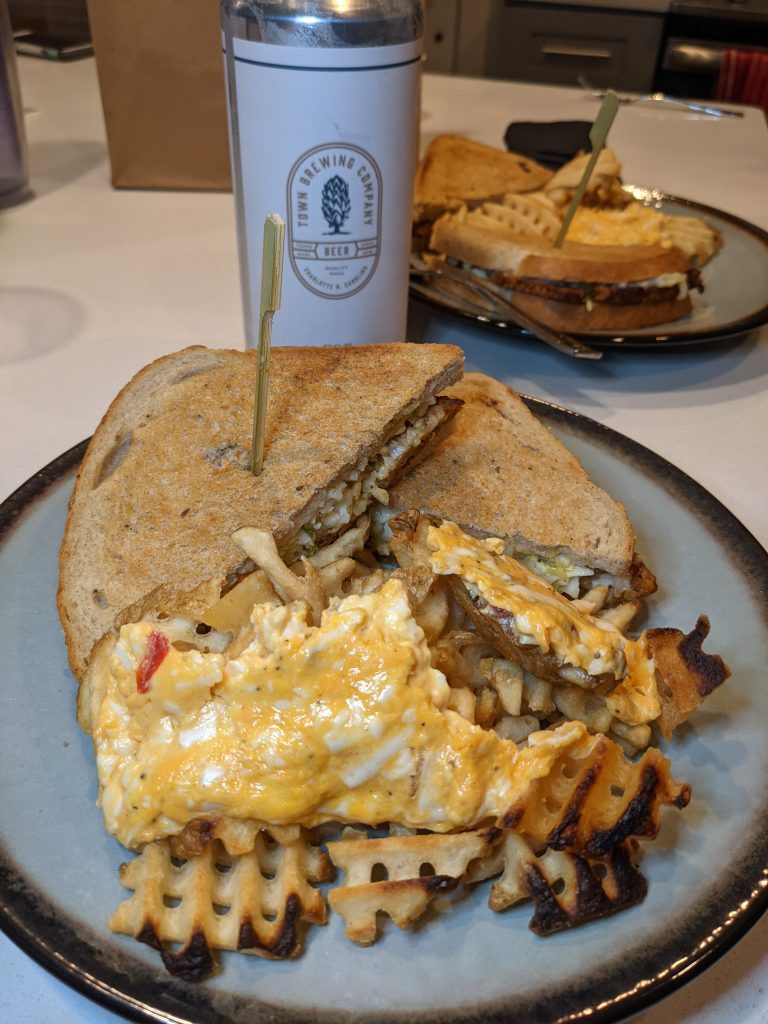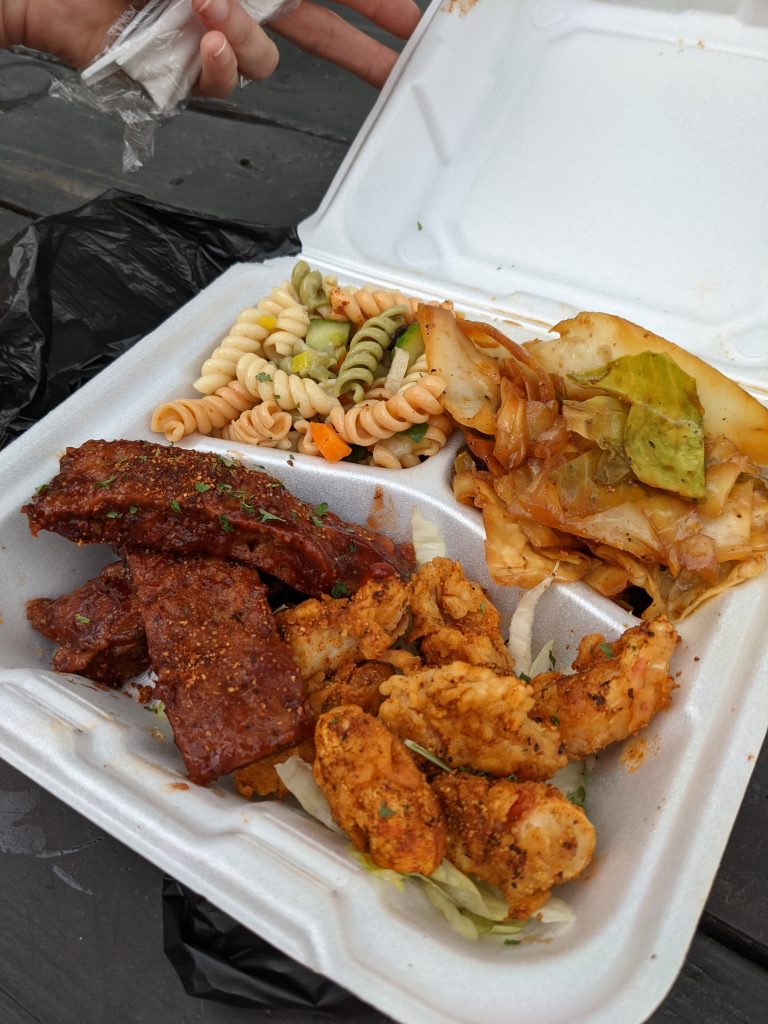 North Carolina Breweries With Vegan Options
Wilmington
Panacea Brewing Company located in WIlmington offers a totally vegan food menu along with their beers and kombucha. 
Asheville
Asheville Brewing Company has Daiya cheese available for their pizzas and the Impossible Burger. 
Wicked Weed labels their vegan options on the menu and includes a Beyond Burger, sweet potato fries, baby kale salad, and hot boiled peanuts.