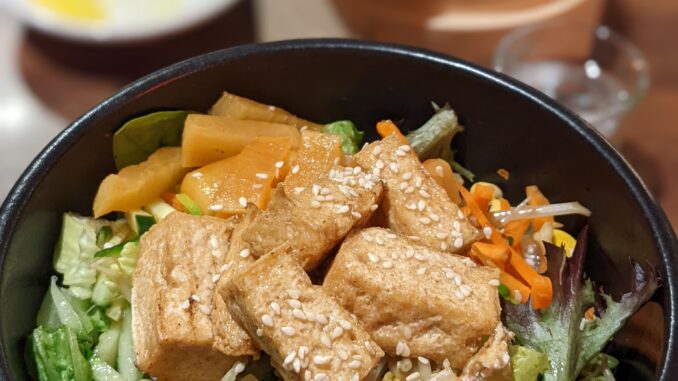 Choi's first opened in 1995 before closing down October 31, 2021. The youngest daughter of the original owners reopened in April 2022 "a little bit more trendier" according to an article on Charlotte Five. You wouldn't expect to find any vegan food at a place with "wing" in the name, but Choi's Korea & Wing now has a separate vegan menu.
I never ate much or possibly any Korean food before going vegan, but this looks like a legit Korean vegan menu. I have also heard from a Korean, self-proclaimed picky about Korean food, coworker that Choi's is the best Korean food in Charlotte.
We ordered the Vegan Crispy Tofu Steamed Buns, Fried Ricecake on Sticks, Vegan Tofu Bibimbap, and the Vegan Jajangmyun. The bibimbap was served in a stone bowl with bean sprouts, carrots, cucumber, lettuce, spring mix, and radish kimchee with spicy gochujang sauce on the side. It was fantastic.
The onions in the jajangmyun dish were prepared to perfection. This dish seemed more noodle than veg until you get to the bottom of the bowl. Maybe there is a better technique to eat the veggies with the noodles, but they were so finely chopped it was challenging to get both with my amature chopstick wielding ability.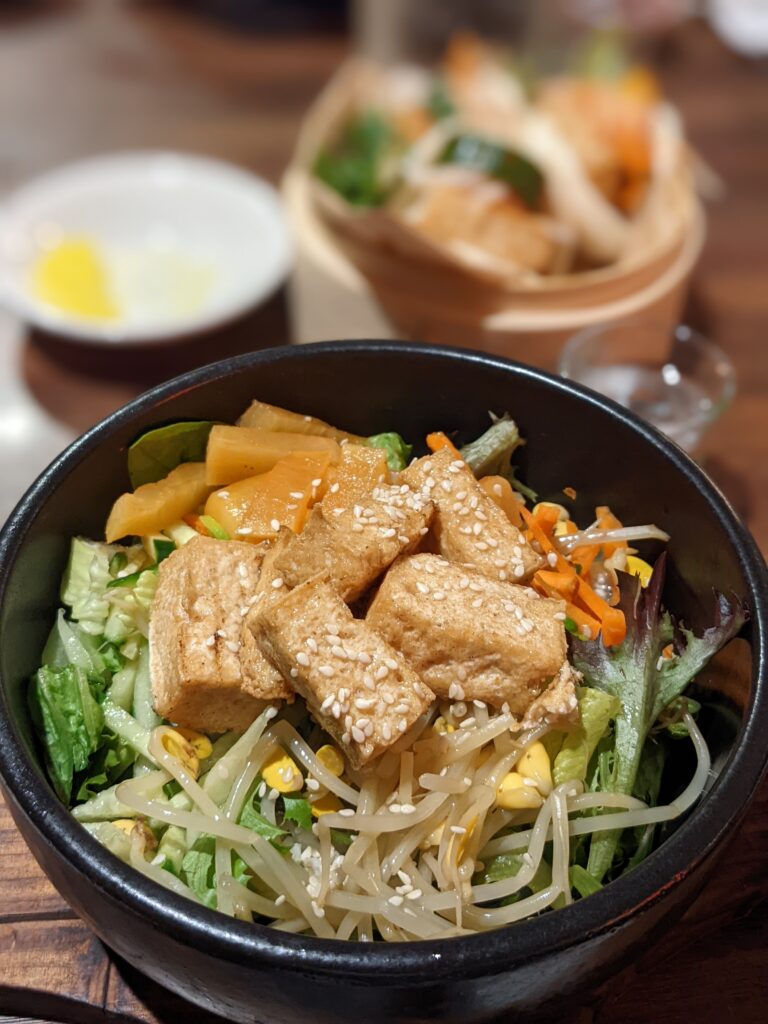 We didn't have to wait long, but it would not hurt to call ahead for a reservation. The hip, yet authentic aesthetic inside with the view of the elevated light rail through the window made me feel like I was in a big city. It did not feel like I was on Arrowood Road. Maybe it was the effects of a rum tasting, brewery stop, and my first time encounter with soju. Soju can best be described as a milder vodka. It has a lower abv and is smoother to drink.   
Choi's offers a perfect spot for a date night or just a great dinner out with good friends.