Top 5 Vegan Breakfast Spots in Charlotte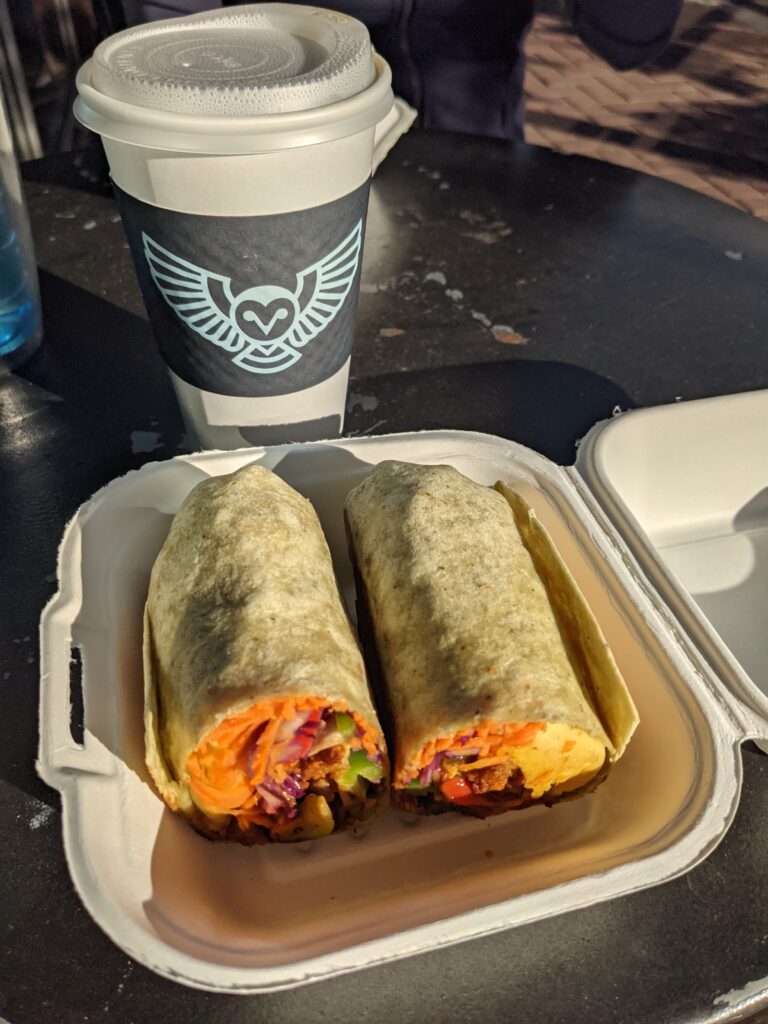 The majority of the breakfast options at Queen City Grounds flagship location in Uptown Charlotte are vegan or can be made vegan. 
The Alexis on Fire wrap made vegan with veggies, peppers, Just egg, sausage, and smoked gouda is one of my favorites. Although drinking a hot coffee accentuates the heat of the wrap. 
They almost always have a vegan pastry option of some sort in the case. Plus, they are a full-fledged coffee shop so it makes for a great breakfast option. A few outdoor tables are available.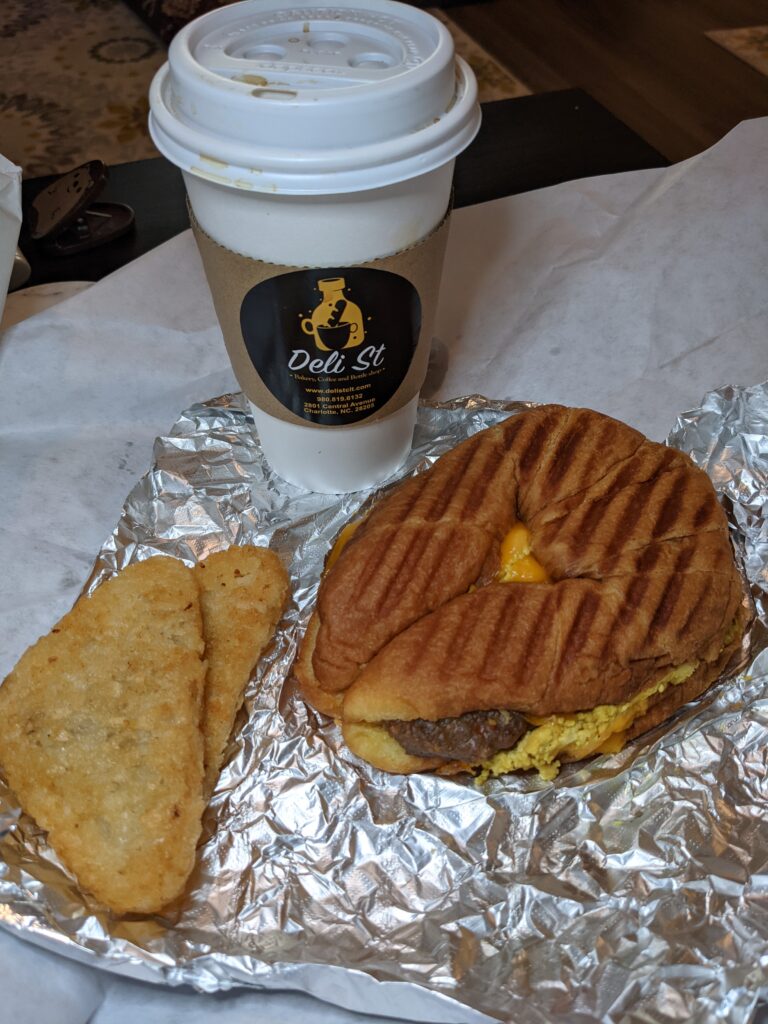 It's hard to stray from the El Chingon and it's tofu scramble, sausage, and cheese on a croissant. It even comes with a side of hash browns. They do offer Just Egg for an upcharge, but their tofu egg has always been good enough to not justify the switch.
They have several other vegan breakfast options including vegan bacon, a bagel sandwich, and breakfast plate.
They serve coffee, have outdoor seating and even offer a few vegan treats in the display case.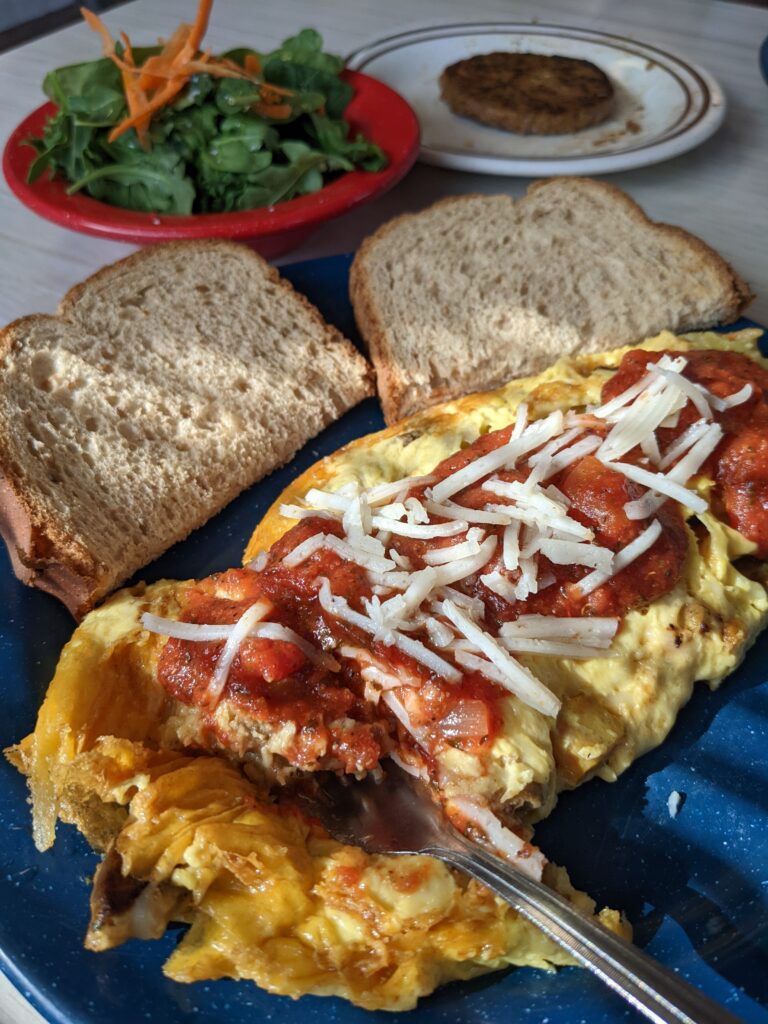 Mattie's Diner is a throwback diner with vegan options intertwined throughout the menu. 
They have omelettes, pancakes, and a breakfast quesadilla. Last week, they even had some vegan French toast on special. 
Love the Vegan Padrino, although I'm not crazy about the red sauce on top. 
This is one of my favorite places to enjoy a sit down breakfast with a waitress that will top off my coffee when it gets low.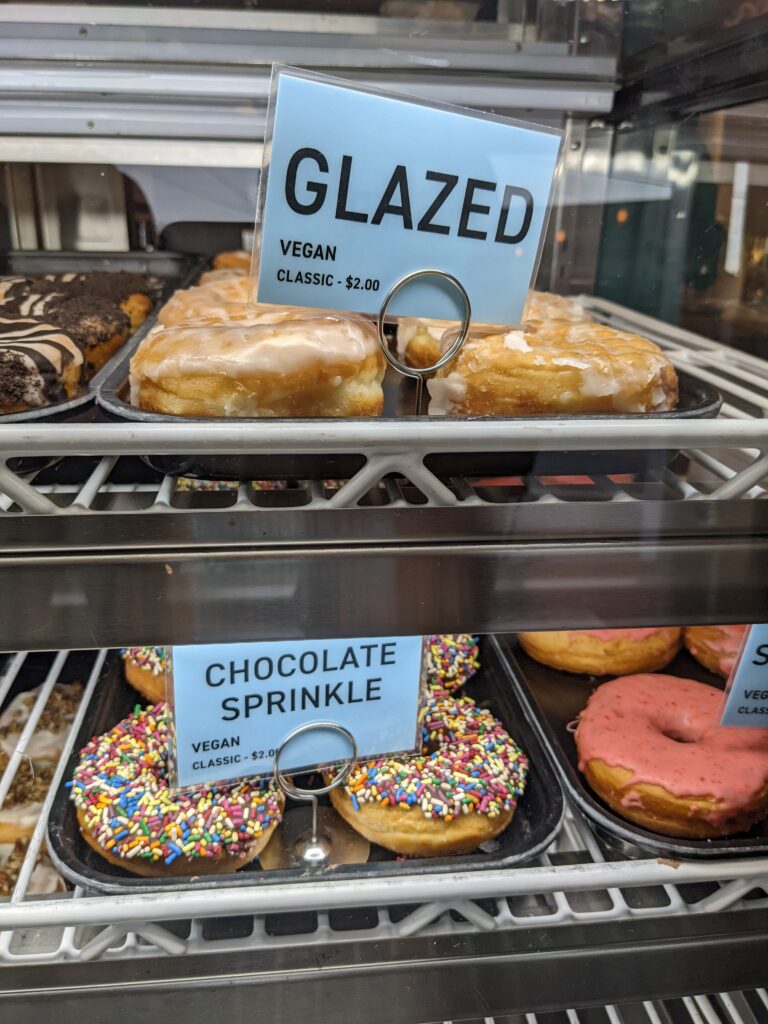 Most of the doughnuts are vegan and the only breakfast sandwich they offer is vegan. by default. Locations in Noda and Southend.
The doughnut holes are a solid choice to get a little doughnut fix while you wait for your sandwich to be made.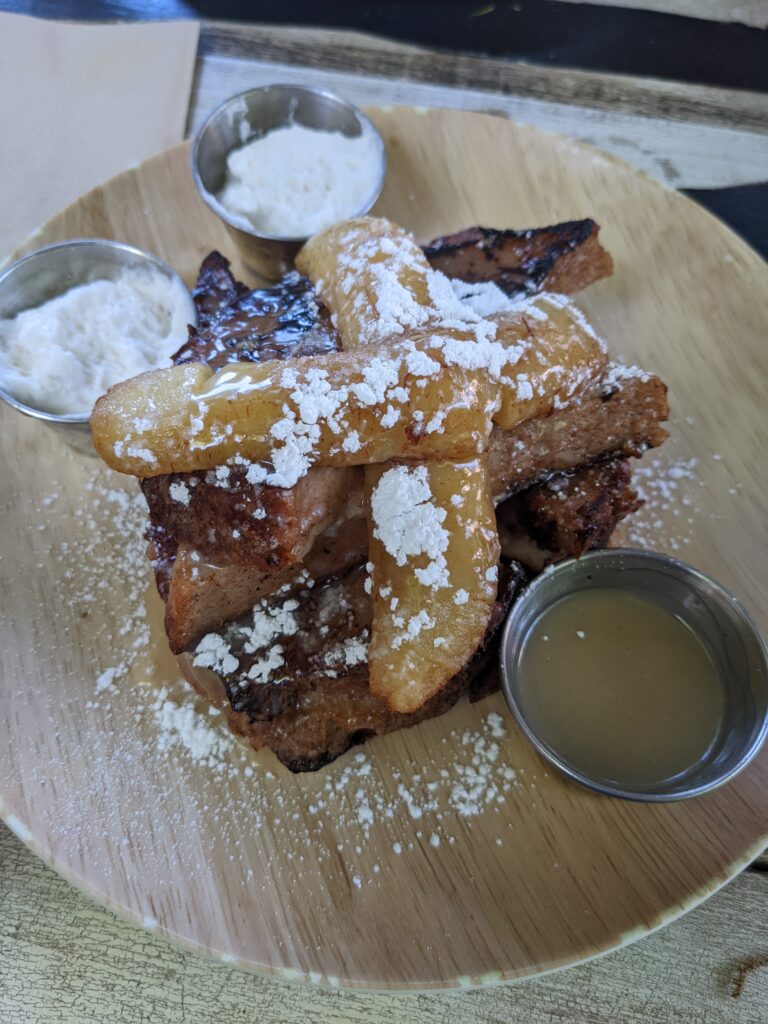 Oh My Soul serves up French toast, pancakes, waffles (all day item), Big Bro (Creamy Just Egg scramble served on toast, with grilled mushrooms, peppers, and onion, friendly bacon, traditional South African sausage, baked beans, grilled tomato, and fries) along with coffee drinks or cocktails. 
Located in NoDa with a large covered patio space, Oh My Soul is definitely one of the top vegan options in the area any time of day.
Vegan Breakfast Options In Charlotte (Complete List)
Here's a complete list of every spot you can find a good vegan breakfast or brunch in the Queen City. Charlotte vegan breakfast options have greatly improved in the past few years. 
This totally vegetarian restaurant has some of the best brunch options in Charlotte. It's menu is on point as far as being vegan friendly and delicious. Essentially everything can be made vegan on their latest brunch menu.
VeganCLT recommends: Chicken and Waffles and Cinnamon Rolls.
They've got your classics made vegan with waffles, biscuits and gravy, or the BBQ and grits bowl.
VeganCLT recommends: The Herc Bowl features BBQ soy curls, home fries, spicy mayo with steamed kale and a biscuit.
Sanctuary Bistro offers Saturday brunch with gluten free options. Options include scrambles and waffles. 
Most of the doughnuts at Pepperbox are vegan including peanut butter oreo, chocolate frosted, tiramisu, and cinnamon spiced maple bourbon. Both locations offers a vegan breakfast sandwich consisting of Impossible Sausage, Just egg, cheese, mayo, on a toasted doughnut bun.  
Serving coffee and waffles in NoDa with a large patio space, Oh My Soul is a top choice for vegan brunch. 
Serving After a long hiatus, Mattie's Diner returned in 2022 with a solid lineup of vegan options scattered throughout the menu. It has been awhile since I've sat in a diner getting my coffee topped off while enjoying a delicious vegan omellette or pancakes. 
With half the ownership being vegan, you can be sure that they will continue to offer solid vegan options. This is the Uptown home for Nightflyer Roastworks who roast in-house and vegan-friendly vegan breakfast and lunch options. They also have a pastry case with several vegan options.
(QCG post)
Living Kitchen offers brunch on Sunday including waffles, crab cake benedict, and sausage biscuit and gravy. 
Deli St now offers a fantastic vegan breakfast menu with items such as Vegan AF (bacon, egg, and cheese on a croissant). El Chingon is our favorite. 
Located in Plaza Midwood, the menu clearly lists the vegan options featuring a chia bowl, avocado toast, and two salad bowls.
Pretty much any time of day, there will be something for vegans at Common Market. Typically have a vegan brunch special on Sunday, but serve The Scrambler (tofu, red onion, vegenaise, spinach, vegan cheese and optional vegan chorizo) daily.
An Asheville staple now open in Charlotte's South End. They serve breakfast all day. Tofu scramble and mimosas. (View menu)
Roots Cafe in South End has at least one vegan breakfast option. The Fresh Start Wrap has vegan sausage, fresh greens, green chili pinto beans, avocado, bell pepper and spicy vegan aioli.  
One of the best coffee shops in Charlotte because they always have vegan zucchini bread that is fantastic. Many times you can find other vegan treats as well.
If you need a dependable stop to find a delicious glazed doughnut (and a few other options) in the Park Road Shopping Center or Optimist Hall.
Consistently offering doughnuts and other treats at EastSide Local and around town.  
Offer both a menu-specified Vegan Tofu Scramble and Vegan BBQ Burrito. A few other items are likely vegan if they leave off the cheese, but the burrito sounds like a solid option.
One of the items that stands out on the menu is the Vegan Bliss Pancakes. It is actually the only item that clearly identifies itself as vegan friendly. However, they do have both tofu and soyrizo on the menu so there may be more options available.
Finally, a coffee chain has a legit vegan breakfast sandwich. They now have a Just Egg, roasted tomatoes, vegan pesto cream cheese spread, vegan smoked provolone on a folded flatbread.