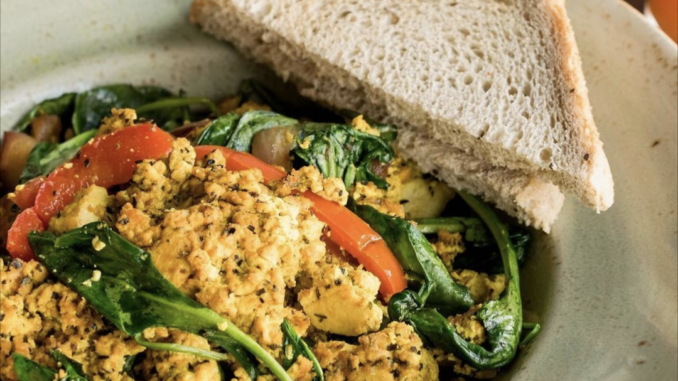 A long time staple of Asheville, Early Girl Eatery recently opened their Charlotte location in South End. They do a great job at identifying their vegan options and offer both tofu and Smiling Hara tempeh. It is actually one of the most thorough vegan identifying menus I've ever seen. They even mark which sauces for their chicken are vegan.
Overall, it's great to have another vegan breakfast option in Charlotte and a place that leans more veggie than processed vegan food. They also offer some alcohol options like mimosas and bloody marys.
Early Girl Eatery Vegan Options
Breakfast Options
They have a few good sounding breakfast options and breakfast is served all day. I'll need someone to try those waffles for me, because the thought of corn kernels in my waffles is off-putting.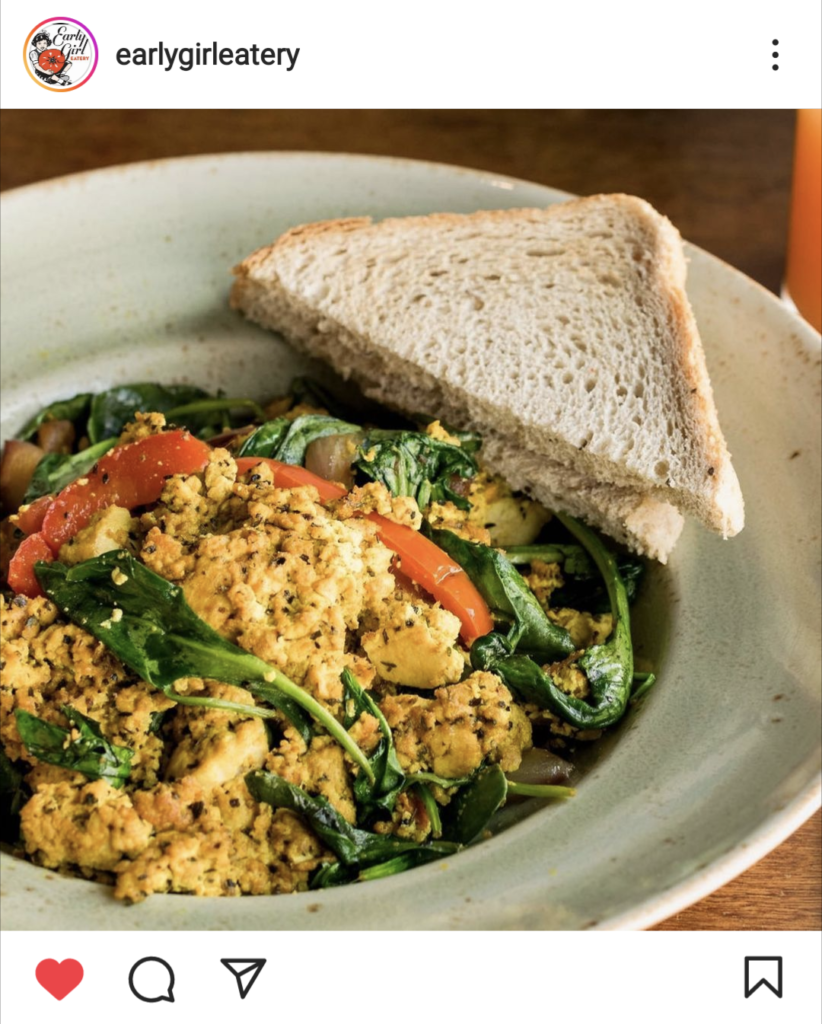 Veggie Breakfast Bowl
Organic brown rice, black beans, sweet potatoes, fresh
organic spinach, cheddar, and scrambled cage-free eggs,
topped with fresh salsa and sliced fresh avocado
–Make it vegan—drop the cheese and replace eggs
with Smiling Hara tempeh
Organic Tofu Breakfast
Organic tofu marinated in mild house-made curry,
scrambled with caramelized red onions, mushrooms,
red peppers, tomato and sautéed organic spinach,
served with organic heirloom grits or organic hand-cut
home fries and vegan toast
Waffles – Organic Heirloom Cornmeal Organic Farm and
Sparrow heirloom cornmeal batter with whole corn kernels
Lunch/Dinner Options
They offer a nice change of pace from the Impossible/Beyond burgers with more veggie focused options.

Organic Heirloom Grit Cake Stack
Crisp-fried grit cake piled with organic spinach, red pepper,
zucchini and yellow squash, caramelized red onions,
shiitake mushrooms, and Southern tomato gravy
Beet Burger
House-made beet burger with lettuce, tomato, avocado,
and lusty monk mustard. Served on a chia millet bun
Shroomie Garden Sandwich
Marinated & grilled portabella mushrooms, red peppers,
caramelized red onions, fresh organic spinach, and sliced
tomato on locally-baked rye
Sides
The only side that is not listed as vegan is the Organic mashed potatoes.