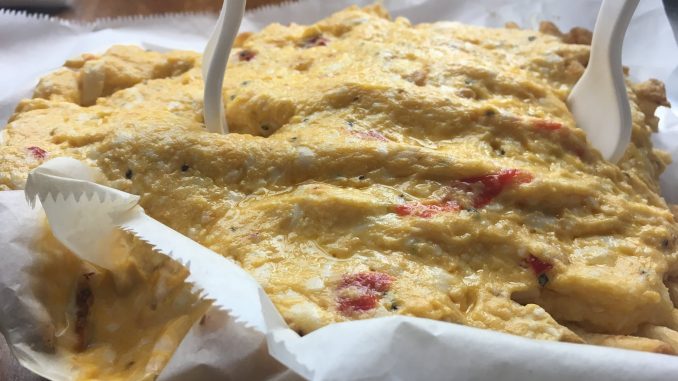 Two of the best vegan food options in Charlotte can be found in Wesley Heights. Wesley Heights can make a good case for the most vegan friendly neighborhood in Charlotte, at least in the percentage of restaurants offering vegan options. 
Where to find vegan food in Wesley Heights
Pinky's – Pinky's is super vegetarian-friendly and has enough vegan options so you won't get bored. The Nature Boy, Stray Dog, Waffle fries and Veggie chili (no cheese…they love putting dairy cheese on) are part of our Pinky's standard order. The menu also includes the Beyond Burger and vegan pimento cheese.
Rhino Market – The two mainstays are the Chaude Legumes and the Tofu You. They tend to know what vegan means, so just make sure to let them know and modify the sandwiches as needed. They also have a house vegetable soup and Raw Rhino sandwich.
Best of Both Souls – A new carryout, vegan food joint located on Thrift Rd. Check their Instagram for their hours. 
Picante – This is the Wesley Heights version of Chipotle/Qdoba and tofu has finally made the menu board. They don't keep it on the front lines with the rest of the meat, so when you order, it takes a few minutes to heat up. Or you can call ahead and they can have it ready so you don't have to stand around awkwardly.
Town Brewing Company – With Fud on the Muv in charge of the kitchen, there are several vegan options including flatbread pizza and a few different sandwiches.  
Burger Company – I was told once in the restaurant that the veggie burger was vegan. Low level of trust and I never heard back via Facebook outreach. Definitely don't try ordering the mushrooms, they use a beef gravy or some nonsense. With all of the good vegan options in the area, I'd skip this place.