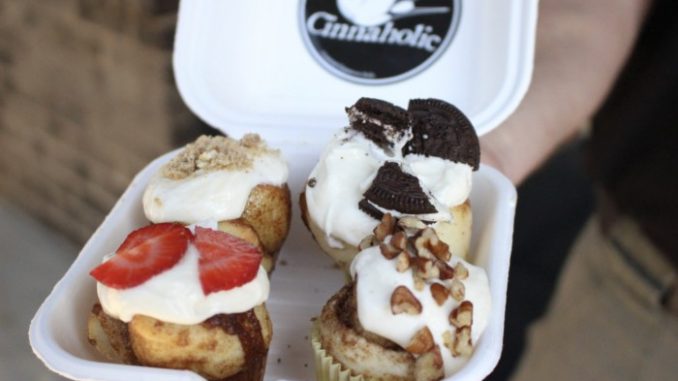 After the initial excitement with news that Cinnaholic was coming to Charlotte years ago, I had finally given up on it actually happening. Now that opening week is finally upon us, the excitement has returned. Cinnaholic gained fame after making a deal on Shark Tank and will open their doors Friday March 2 in Indian Trail.
It's not only the fact that I selfishly want to shove obscene amounts of delicious cinnamon rolls in my face. Cinnamon rolls are somewhat of a universal language. Non-vegans can't resist the smells and will walk away saying things like:
"I didn't know vegan cinnamon rolls could taste so good, this is like cinnabon but better (I'm sorry for betraying you cinnabon)." – Hana
"Best cinnamon rolls I have ever had! I didn't even know they were vegan!" -Madison
"My best friend told me of this place a year or two ago and I was sceptical because she said it was totally vegan. And I didn't think it sounded good at all, if I'm going to have a cinnamon roll it's definitely not going to be vegan. Eventually I went and saw that they had peanut butter frosting so I tried it. It was THE BEST CINNAMON ROLL I HAD EVER HAD. I couldn't even tell it was vegan at all." -Jeralyn
(Direct quotes from Yelp reviews)
It's another small step in opening eyes to the fact that we don't need to use and abuse animals to eat ridiculously delicious food.