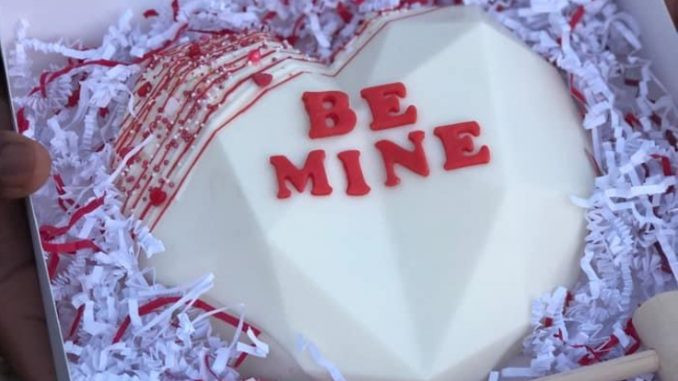 Looking for a special vegan Valentine's Day treat for your loved one? Here are a few vegan Valentine's Day options around Charlotte including where to find chocolate covered strawberries. 
Jazina's Creations – If you're looking for a customizable vegan treat, Jazina's Creations offers a number of delicious-looking vegan options. From chocolate covered strawberries to the breakable heart filled with vegan candy inside, they have you covered for Valentine's Day…not to mention birthdays or any other time you need treats or desserts. Be sure to when ordering to select the vegan options, as they still offer non-vegan items.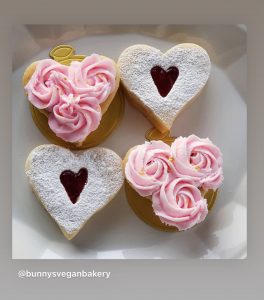 Bunny Treats – This totally vegan baker has a few Valentine's Day specials:
Cakelets box : 4 Cakelets your choice of chocolate OR vanilla Cake for $16
Cookie box : 4 shortbread linzer cookies filled with Strawberry jam for $16
Variety pack: 4 shortbread linzer cookies and 4 cakelets for $25
True Flour – Offering brownie bars and chocolate chip cookie bars.
3rd Shift Treats – This is a newer operation, but has recently posted chocolate covered strawberries available on their Instagram.
Cinnaholic – Despite not having a Cinnaholic located in Charlotte just yet, we are fortunate to be surrounded by Cinnaholic in 3 directions. While they always have delicious rolls and brownies, they are offering Sweetheart Boxes and chocolate covered strawberries as we approach Valentine's Day.
Link up with the Cinnaholic closest to you to place your order.
Indian Trail – @cinnaholicindiantrail
Concord Mills – @cinnaholic_concordmills
Belmont – @cinnaholic.belmont
The Greener Apple – If you're looking for a traditional box of chocolates in the vegan form, your best option is The Greener Apple in Plaza Midwood. They always have the best vegan chocolates/treats available for whatever holiday is approaching.