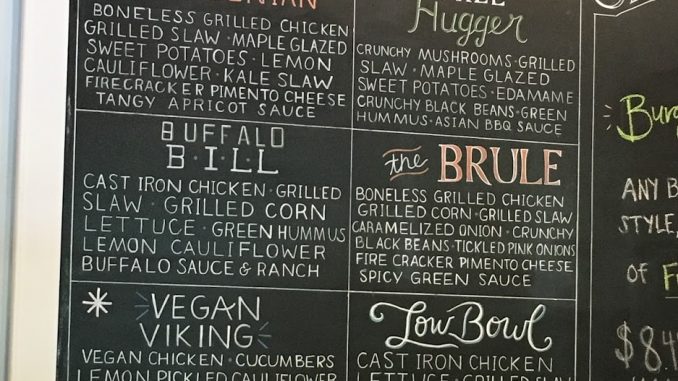 Once you start venturing further away from Charlotte, the vegan options become a little harder to find. Fortunately, we are here to help guide you on your quest for good vegan options.
Downtown Davidson is definitely the cutest little downtown in the Charlotte area. Fortunately, they do have a few vegan options. 
Davidson Ice House offers wraps and bowls with several vegan options. They do a pretty good job identifying their vegan options and feature a vegan chicken, Beyond Meat and possibly the buffalo cauliflower. Sadly, the one time I made it there, they happened to be out of vegan chicken. 
They don't specifically have a vegan menu, but online they list certain things as vegan in different places. The Vegan Viking is the one vegan labeled Chef Bowl Creation with vegan chicken, sweet potatoes, onion, tahini, chickpea salad, lemon cauliflower, cucumber, and black bean hummus. 
You can also get a Beyond Burger or build your own bowl. It looks like the tahini and buffalo are the vegan dressing options, but I recommend double checking for more options. 
The Pickled Peach is one of those farm to table joints that ends up disappointing with the limited vegan selection. I have always been able to find something vegan to eat here and they usually have a vegan cookie and soup, but the magic v-word shows up zero times on their latest menu posted online.  At one point they did offer a take home family meal vegan pot pie, so they can do it. 
Clean Juice – They have avocado toast, smoothies, juices, and acai bowls. For some reason, they don't use the word vegan on their menu online, but a lot of it sure looks pretty vegan-friendly.
Carrburritos – I've never been to this place, but found it on Happy Cow being recommended for vegans. They don't appear to have any vegan meats or cheeses, but the vegetales asados and guacamole sound pretty good.
Ben and Jerry's – Sure it's a chain, but this location deserves a shout out. One time we went in here and purchased a pint of non-dairy ice cream that they offered to put in cones (there were 3 of us). This ice cream was frozen solid and it took two employees several minutes and a crazy amount of pint wrestling to make the scoops happen.