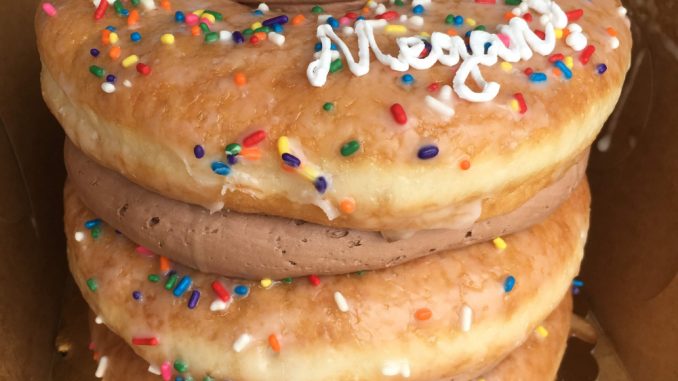 One of the most common questions I get on Instagram is "Where can I get a vegan cake in Charlotte?" We aren't quite to the point of just walking into the nearest grocery store and picking up a random vegan cake for a cheap price (although Whole Foods usually has at least some slices available). Fortunately, Charlotte does have several excellent vegan cake makers to choose from.
Our favorite: Sunflour Baking Company
Boujie Vegan Bakery was founded in 2021 in Kansas and relocated to Charlotte in 2023. Boujie offers cakes and cookies available for local pickup and nationwide shipping. They are 100% vegan and free from soy, tree nuts, and peanuts. 
Nat Marie's Vegan Treats offers a plethora of vegan treats. Cakes, cookies, brownies, cinnamon rolls, cake jars, etc. She even offers home made ice cream cakes and custom pet portrait cookies.
(answers from email outreach in 2019)
What is the best way to place an order? How much advance notice is needed?  
We recommend pre-ordering your vegan cake in-store to ensure that all details are created exactly how you want them. You can also pre-order vegan cakes with our standard house designs over the phone. We need at least a week's notice—pending availability on our schedule—for vegan cakes.
Vegan Doughnut Cakes can be pre-ordered in-store or by phone with at least 48 hours' notice, pending availability on our schedule. You can also submit a request here , and we'll follow up to confirm availability and place your pre-order.
What flavors do you have? Top flavor or recommendation?
We make vegan chocolate and vegan vanilla sponge cake. My go-to is chocolate; however, I'm a chocolate fanatic, so I suppose I'm a bit biased!
Our vegan Texas Doughnut Cake is made of three of our massive Texas Doughnuts layered with vegan vanilla or vegan chocolate buttercream,  three Texas Doughnut Holes, and your choice of vegan sprinkle options. Just ask for vegan options when pre-ordering and we'll take care of the rest.
What are the sizes and pricing?
Our vegan cakes are available in seven sizes—plus tiered combinations.
Doughnut Cakes are available in one size for $20.
Instagram: @suarezbakery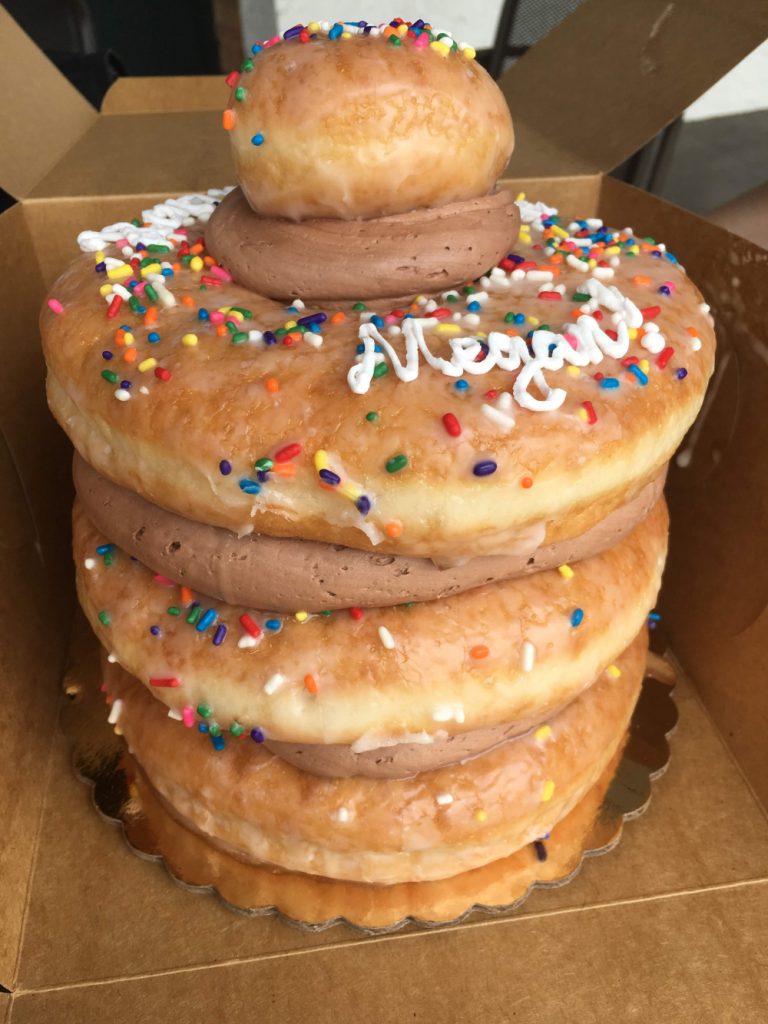 The Texas Doughnut Cake from Suarez is one of the more novelty vegan cake options available. It satisfies the fun birthday cake feel for the most reasonable price. It may not totally satisfy the birthday cake need, since it is, in fact, doughnuts disguised as a cake, but it is fun. 
What is the best way to place an order? How much time is needed? 
We kindly ask for a 48 hour notice for all incoming cake and cupcake orders. We make everything from scratch! This time frame allows us to ensure that all our orders and products have the perfect amount of time and care. 
The best way to place and order is to either call or email one of our 4 locations nearest you in Charlotte. We are currently in Elizabeth, Dilworth, Harrisburg, and Ballantyne areas.
What are the sizes and pricing?
Pricing can be found here.
6 inch (serves 4-8) $35
8 inch (serves 8-10) $45
10 inch (serves 12-15) $60
12 inch (serves 20-25) $75
Cupcakes also available.
What flavors do you have? 
Cake Flavors: Vanilla, chocolate, banana
Frosting: Vanilla, espresso, raspberry, whipped chocolate ganache, almond, strawberry, zested lemon, peanut butter
Vegan and Gluten free Cake Option: Chocolate and vanilla
Other info? 
We also carry a wide range of vegan products, and cupcakes in the store if you are looking for single items. We even have vegan & gluten free offerings as well.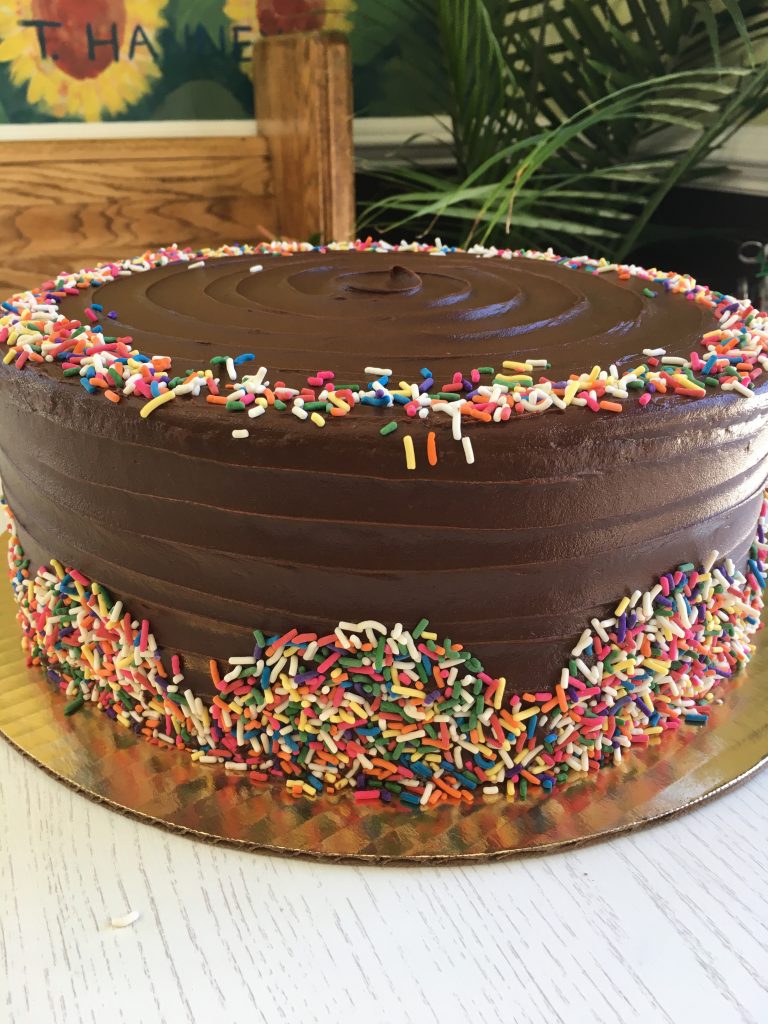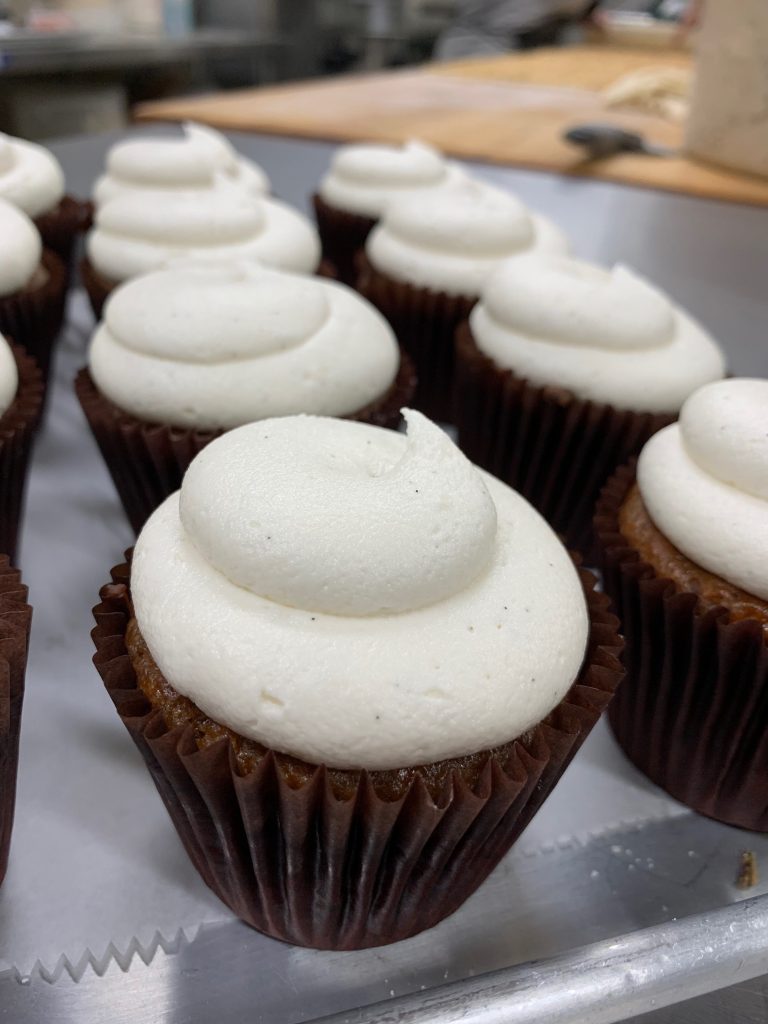 What flavors do they have?
Chocolate, vanilla, peanut butter cup, chocolate confetti, turtle, cookies & creme, strawberry shortcake.

What are the sizes and pricing?
You can find pricing online here. It appears a 4 inch chocolate starts at $40/ peanut butter cup at $50. For 8 inch chocolate is $80/ peanut butter cup is $90.
Instagram: @jazinascreations
Other possible vegan cake options around Charlotte:
Bean Vegan Cuisine
Store Bought Options:
Whole Foods
Publix
Ben and Jerry's (Allegedly, they make a vegan ice cream cake)