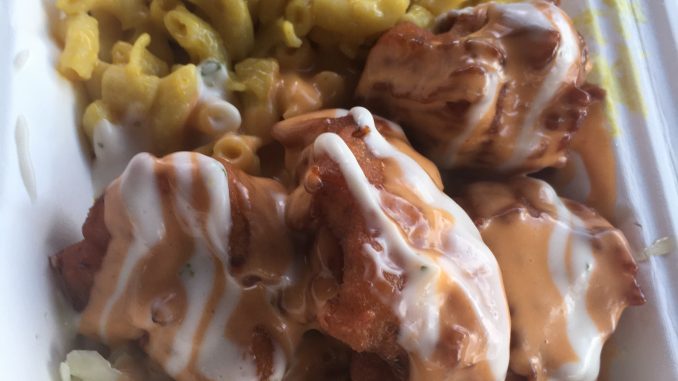 On the drive back to Charlotte from Virginia last weekend, we were searching for some vegan options driving down I-85 that wouldn't take us too far out of the way. We found Earth to Us, located in Durham, and it added less than 10 minutes to our travel time (not counting eating in the parking lot). Ordering online was easy and it was ready when we arrived. 
Not quite ready to end the 'we're on vacation' eating habits, we went with the mac & cheese plate and the loaded nachos with impossible meat added. Both turned out to be good choices.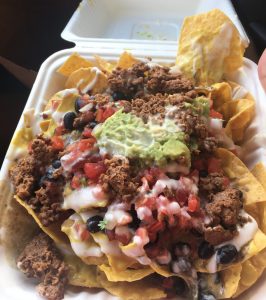 I am consistently disappointed when I order nachos, but I can't resist. Fortunately, these nachos landed in the middle upper tier of vegan nachos. 
The corn tortilla chips were covered in tasty guacamole, pico de gallo, cashew cheese sauce, black beans and the added Impossible meat. The only thing missing for me was some jalapenos or spice of some kind.  
The Mac & Cheese plate is served with BBQ chicken and coleslaw, but you can substitute the chicken for cauliflower. We opted for the buffalo cauliflower and thought it was very good. I guess I would've liked a bit more buffalo flavor, but still good. The mac & cheese itself was good as well and the coleslaw was surprisingly tasty. The whole container was scraped clean, so I'm confident in saying we would order it again and recommend you give it a try.   
The rest of the menu consist of a variety of Latin/American comfort food, such as hempe tacos, patacon burger, veggie empanadas, and a few different arepas.