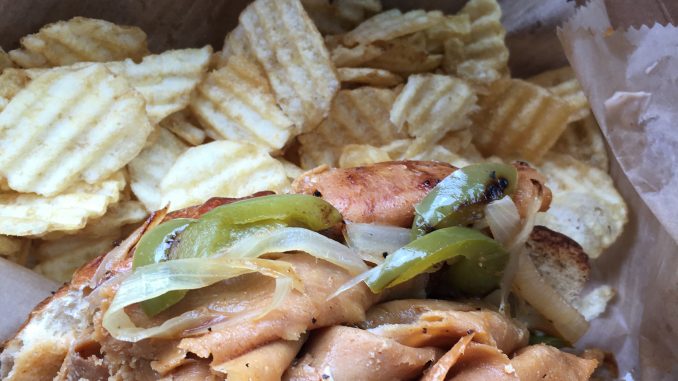 Sunflower Diner in Asheville recently celebrated their one year anniversary on October 1, 2020 and launched a new 100% vegan menu. They are located in West Asheville and inside the West Village Market.
We just happened to be going to Asheville to meet a friend in town for a day, and since Nine Mile wasn't open yet, we decided to check out Sunflower Diner. It did not disappoint. We tried the West Side Hot Mess and the Mock Philly Cheesesteak. The cheesesteak was loaded with house seitan with peppers and onions on a huge pretzel hoagie bun with Sriracha vegan mayo and sunflower-cashew cheese. The Hot Mess did look like a hot mess, but it was a delicious mess of mushroom gravy, tofu scramble vegan sausage and biscuit. 
The real winner for my wife was the banana pudding. While I personally prefer anything with chocolate for dessert, she has been searching for a suitable vegan banana pudding for some time. While she was eating it, she just kept saying, "They did it."  So congratulations to Sunflower Diner for making a solid banana pudding. We were quite pleased with our whole meal and if we were eating at the restaurant, they would have received a standing slow clap. 
In case you need another place to stop for vegan food in Asheville, this is it. 

Instagram: @sunflowerdineravl