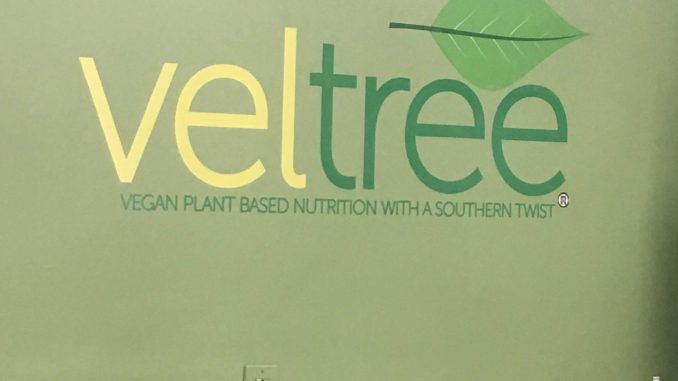 It always seems like it is really far out there, but it actually takes less than 20 minutes to get out to University City, or the area of Charlotte around University of North Carolina in Charlotte (UNCC). Honestly, there are actually several spots that make it worth the drive.  
Veltree – (RELOCATED TO SOUTH CHARLOTTE) One time we went to pick up Veltree, I unknowingly held the door open for Nick Cannon. Even without a celebrity sighting, if you are looking for the best chicken drumstick experience in Charlotte, this should be your first stop. This is a totally vegan spot that offers soulful vegan food. Downside: no seating and closed on Monday.
Bahn Mi Brothers – Not totally vegan, but very vegan friendly. They offer several vegan bahn mi options (with house made vegan mayo, cilantro, cucumber, jalapeno, pickled daikon & carrots) and clearly marked vegan noodle bowls. Vegan kimchi fries, seasoned fries, Thai tea (with soy milk), and 'egg' rolls make this a staple.
Passage to India – We have yet to make it here, but they have a dedicated vegan section with a good amount of options.
WrapWay – Described as a fast-casual Mediterranean, they have a vegan power wrap/bowl, grain burger wrap/bowl, and several other clearly marked vegan options on the menu.
Bachi – Bachi has some of the best vegan sushi options in Charlotte. One of the few or only places that offer more than simple veggie/avocado options. The Chicken teriyaki roll uses a plant-based chick'n and the King Liam Roll uses spicy vegan mayo and vegan cream cheese. Not feeling like sushi, they have a nice bbq cauliflower wings option with vegan ranch.
I don't know what the limits of University City really are, but this is up there on Mallard Creek Road, down from Trader Joes.
Toppers Pizza – One of the best vegan pizza options around with an excellent buffalo chicken pizza and vegan Topperstix (cheesy breadsticks). Double check if this location is open, because at this moment they are closed for repairs.
Tony's Pizza – They serve huge pizzas with vegan cheese. No special toppings aside from veggies and vegan cheese, but we've enjoyed it when we had it.
Cafe 49 – Just recently heard that they serve vegan pizzas with vegan cheese, pepperoni, and plant-based protein. Don't know much more than what their menu shows, but it's another option.
Pupusa 503 – A Salvadoran deli that has a clearly labeled vegan menu.
Jerk and Juice – Rumor has it they serve some vegan meat products, listed as veggie chunks on the menu. Hmm.
CAVA – While they consider vegan an allergy, they are a good option in the area.
Blaze Pizza – Another solid pizza chain option offering vegan chorizo and cheese.