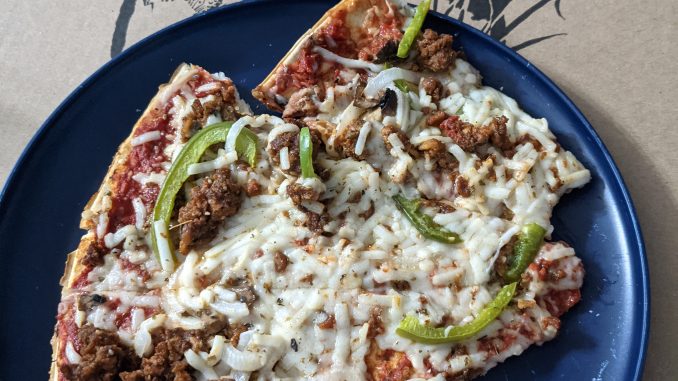 It's always scary when you have to travel somewhere that wasn't planned solely for their plethora of vegan dining options. Fortunately, the familial obligations remaining in Northwest Indiana have led to the discovery of a few surprise vegan finds that have me looking forward to future visits. 
This is not a complete list, but just a few places that were on our radar during our visit to the Region. Side note: While growing up in the Region, I never once heard it referred to as the Region until I moved to Indianapolis for school. 
Chesterton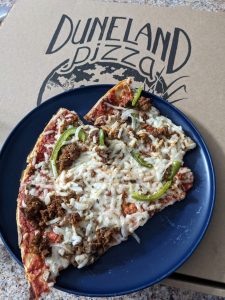 Duneland Pizza – If you're looking for some of the best vegan pizza in the country, you have to travel to Chesterton, Indiana. Plan ahead, because Duneland Pizza has very limited hours. At the time of writing this, they are only open 4-8:30pm Friday, Saturday, and Sunday. We have had our fair share of vegan pizza, but their thin, crispy vegan cheese and sausage pizza is top notch. Maybe there is some element of nostalgia having eaten here during the days of my youth, but even the wife is a big fan of Duneland Pizza.
Octave Grill – The black bean burger without the cheese is their one listed vegan option.
Tiger Lily – Another fantastic vegan option in Chesterton, Indiana with limited hours. They are only open Wednesday through Saturday, but they have a vegan menu and desserts, so don't miss it.
It makes me a little nervous when they have the same menu item listed on the traditional menu as well as the vegan menu, but they put a little vegan toothpick in the vegan version to offer some confidence that you're getting the vegan version. The Pub Sandwich and Shepherd's Pie were both really good, but make sure to save room for dessert. They have a pastry case with clearly marked vegan or traditional items.
The chocolate donuts were reminiscent of the old Hostess donuts, but better. We also tried brownies, chocolate pudding, and cupcakes. All really good .
Valparaiso
Blockhead Brewing – They have a Garden Roll sushi, the yakisoba and Korean BBQ fries can be made vegan. They did have tofu for the yakisoba, but overall it was just ok. It was nice that we happened to be there on a $2 beer night (Tuesday), but I didn't fall in love with any of the beers I tried. Also, I'm pretty sure it is a crime to have buffalo cauliflower on your menu and to not make it vegan-friendly.
Tomato Bar Pizza Bakery – They have a clearly marked vegan menu on their website and it sounds pretty good, with vegan cheese, vegan chorizo, housemade sausage, and housemade BBQ jackfruit. They have a few pre-built pizza options, or you can also build your own pizza or calzone.
Meditrina Market Cafe – A Mediterranean menu with clearly marked vegan options.
Crown Point
True BBQ and Whiskey – A pretty cool spot in Crown Point with a large selection of whiskey and a handful of vegan options. The shaved bbq seitan sandwich came with fries and coleslaw. They also have a Reuben, burnt ends, jackfruit bbq sandwich, and a smoked portobello mushroom.
La Quesdilla Mexican Grill – A rare Mexican restaurant that supposedly has vegan sour cream and vegan cheese. Unfortunately, we didn't make it here on our trip, but their menu lists several vegetarian items that can be made vegan.
Lelulo's – They seemed to be moving or in transition when we were in town, but we've had their stuff in the past and were hoping to get it again. They can do custom cakes and have good treat options, so keep them on your radar.