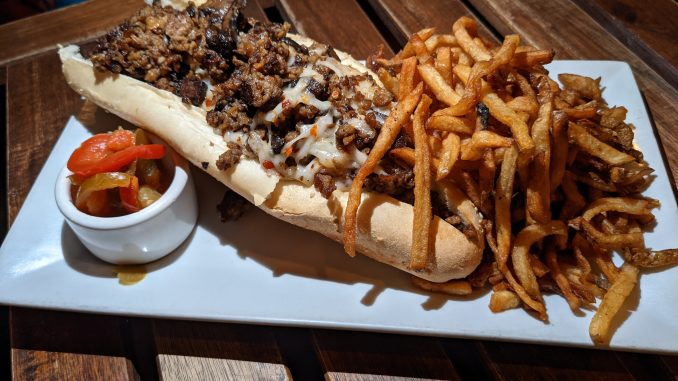 Top 5 Vegan Stops in
Philadelphia
Tahini Milkshake from Goldie
Fancy night at Vedge (make reservations)
General Tso's Hoagie from Monster Vegan
Breakfast Burrito from The Tasty
Cocktails at Charlie Was a Sinner
It's hard to pick my Philly favorites when there were so many solid options. Philadelphia may be the number one vegan destination we have visited. Definitely in regards to being able to hit so many spots without leaving the downtown area. We stayed near Rittenhouse Square which was a fantastic home base. There were so many options nearby, we didn't even get a chance to try out the vegan pizza place (20th Street Pizza) that was only a block away. We walked or rode the Indego bikes around town.
Here's a list of the places we made it to or were on our radar.
Batter and Crumbs – We had an early flight into Philly, so this was our first stop for coffee, a breakfast sandwich, and some treats. "We're on vacation" mode activated. The sandwiches are premade by Cheezy Vegan, but that didn't make them any less delicious. We had the Chicken and Waffle sandwich and I would get that again.
Dottie's Donuts – Obviously, you need to go to the vegan donut shop. Per their website, "We always have chocolate, vanilla, vanilla sprinkles, cinnamon sugar, Boston cream, apple fritters, cinnamon buns and brownies." For changing daily flavors, here is their Instagram.
The Tasty – We could have gone to this all vegan diner located in south Philly for multiple meals, but we only made it for breakfast one morning. We had a tasty (accidental usage of restaurant's name) breakfast burrito sitting on a bench out front. Per their Instagram, the big park across the street is now open so while they are still doing call ahead/pickup only, there will be better seating options across the street.
Vedge – Vedge has been on our vegan radar for years and we almost missed it by nearly missing out on securing a reservation. Note: they allow reservations up to 4 weeks in advance. We tried a few things like the Rutabaga Fondue, spicy Dan Dan Noodles, and Grilled King Oyster Mushrooms. It really is a great veggie-forward experience if you're up for a fancy/expensive night out.
Charlie Was a Sinner – Another fancier than our usual dining out experience, but another good meal. Unfortunately, we sat outside here as well and it got a little warm in the outdoor dining structure. The food was great and the Beast of Burden cocktail was excellent. (Takes reservations)
Monster Vegan – This ended up being my wild card favorite place we tried because it wasn't really on the must-try list, but I had it on the radar in case we found ourselves in need of some food in the area. As it turned out, there was a wait to get a table at Monk's Cafe (one of the few places on the east coast where you can find Pliny the Elder). So we walked down to Monster Vegan and ordered a General Tso's Hoagie. It was a hefty size hoagie, a bit of a mess to eat, but it was super good. I loved everything about the sandwich, especially the Brussel sprouts.
HipCityVeg – This is another place where you could eat breakfast, then come back for the next meal and the next. Plus, they have milkshakes. We picked up our food and walked over to Rittenhouse Square to eat. After spending well over $100 at Vedge, the $14 breakfast meal for 2 was a great option. It comes with 2 breakfast sandwiches and 2 hash browns. Not too shabby.
Goldie – Tahini milkshake sounds odd, but it is definitely worth grabbing one while in Philly. Goldie is a vegan, Israeli-style falafel shop
Bar Bombon – I couldn't recall any stand out dishes here, but when asked for what to say about this place, I was told, "It was yummy." (Takes reservations)
Luhv Vegan Deli – Unfortunately, we did not get to eat here, but a vegan deli sounds amazing. It is located inside Reading Terminal Market.
Grindcore House – Vegan coffeehouse serving breakfast, lunch, and treats.
Good Dog Bar – Only one vegan option, but it turned out to be a pretty good Vegan Cheesesteak.
A few spots slightly northeast of downtown in what I'm guessing (per Google Maps) is the Northern Liberties area.
Bourbon & Branch – Several vegan options including wings, pizza, cheese steak, and burgers.
Silk City Diner – Cool looking diner with garden offering quite a few vegan options.
Blackbird – Apparently, they transitioned from a pizza joint to a sandwich shop in early 2021, but it still looks like they have an awesome menu. They don't really address the transition on their website that still says pizzeria, but this is what I've gathered via their IG posts. If you're looking for their old #1 selling pizza, the Haymaker is available at their sister shop, 20th Street Pizza.
Not sure if this will work, but here is the Google Maps list I made.